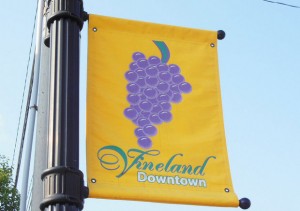 New Jersey Partnership for Healthy Kids-Vineland (NJPHK-V) recently received an initial grant of $450,000 toward a three-year $1.35 million award from the Partnership to Improve Community Health (PICH), a program funded by the Centers for Disease Control and Prevention. The funds to help reduce chronic diseases such as obesity and address environmental factors contributing to health disparities that currently affect nearly 75 percent of all Vineland residents.
Since its inception in 2009, NJPHK-V has made significant progress in ensuring Vineland families have access to healthy choices. These successes include: creating bike lanes; sponsoring monthly fun and fitness events in the business district during spring and summer months; securing commitments from five Vineland corner stores and restaurants to provide healthier product choices; assisting with the development of a wellness policy and creating a wellness council in the Vineland public school district benefiting nearly 10,000 students.
"This grant allows us to expand our efforts and have an even greater impact on the community's health by focusing on environmental and policy changes that support healthy eating and increase opportunities for physical activities for all age groups in Vineland," stated Lisa Scheetz, NJPHK-V project manager.   "Within three years, we expect to see healthier food choices in more corner stores, increased access to physical activity for children, and improved opportunities for the prevention of chronic diseases through clinical and community linkages."
As part of the "Collective Impact for Health Equity in Vineland City" initiative, NJPHK-V partnered with the Vineland City Health Department, Family Health Initiative, Stockton College and the Cumberland Cape Atlantic YMCA to win the grant.
The PICH awards are part of a U.S. Department of Health and Human Services (HHS) initiative to support public health efforts to reduce chronic diseases, promote healthier lifestyles, reduce health disparities, and control health care spending. The Centers for Disease Control and Prevention (CDC) will administer the grants, which will run for three years, subject to availability of funds.