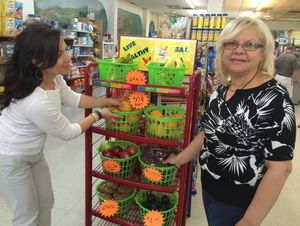 Originally published in The Press of Atlantic City, Thomas Barlas-Staff Writer
The baskets of apples, oranges and bananas are in plain sight for customers entering the Downtown Grocery and Deli on Wood Street.
"It's more available now that it's in the open," Paciocco said, adding she hopes more of the city's mom-and-pop stores make the same kind of change.
The Downtown Grocery and Deli is one of five local groceries participating in the New Jersey Healthy Corner Store Initiative. The program urges those stores to sell more fruit, fresh vegetables and other products lower in salt, sodium and fat. Officials with various health-related organizations visited the store Wednesday to help launch the program, which is also operating in Camden, Trenton, Newark and New Brunswick.
While the program is geared toward all city residents, health officials say targeting the corner grocery stores is especially important for helping youths make healthier eating choices.
Studies show youths living in neighborhoods with those stores consume about 350 more calories each day, said Lisa Scheetz, operations director for the local YMCA, which is helping to coordinate the program. Those extra calories aren't coming from healthy foods, she said.
Health officials said the program is especially important for Cumberland County, which annually ranks as the least-healthy county in New Jersey. Part of the reason is the inability of residents in the city's urban centers to get fresh fruit and vegetables, they said.
Vineland, Bridgeton and Millville in Cumberland County are among 134 "food deserts," or municipalities with poor access to healthy foods, in New Jersey. About 340,000 New Jersey residents live in those food deserts.
Downtown Grocery and Deli was the first store in the city to sign up for the program, said Emma Lopez, health educator with the city's Health Department. Store owner Dolores Rodriguez allowed health officials to use her store to take surveys of customer needs and let customers sample healthier foods, she said.
Rodriguez's son, Adniel Carlos Rodriguez, said his family wants to help encourage a healthier lifestyle in the city. That's not always easy, especially for children, who often stop in the store just to buy candy, he said.
"People aren't used to buying new things," he said.
One of the healthier items they may be buying is a parfait treat developed at Rutgers University's Food Innovation Center in Bridgeton. The center helps local entrepreneurs develop different kinds of food products.
Development of the parfait — yogurt with blueberries, cranberries and granola — began several years ago, said Diane Holtaway, the center's associate director of food services. The parfait has scored well in taste tests, many of which were held at schools, she said. It should be ready for wholesale distribution soon.
Paciocco is one of two city Health Department employees who will work with local grocery stores to stock those healthier foods, Lopez said. The overall goal is to have about 25 stores enrolled in the program by September, she said.
Once that's done, Lopez said she plans to bring in local farmers to work with the grocery stores. Cumberland County is one of the state's agricultural centers, and it's important for local farmers and shopkeepers to work together, she said.